After hearing that this was the best sushi in Denver, I made a point of trying it on my recent business trip. Sadly I had to go alone, but that turned out to be a bit of a blessing. When I got to the restaurant around 7:00pm there were already 10 or so people milling about outside. I navigated my way through the crowd, resigned to a long painful wait. Luckily for me, there was a lone spot at the bar and I was seated immediately.

Prior to coming to Denver, I told some coworkers about my plans and they scoffed at my notion that good sushi could be found in a landlocked state. I admit walking up to the bar I felt a flutter of trepidation as none of the sushi chefs were Japanese. I had a couple to each side of me and found them both amicable dining company. As regulars, both couples were proud of their favorite sushi restaurant and wanted to know how the restaurant compared to the sushi in LA. I promptly ordered an Asahi (my sushi beer of choice) and the omakase. I would be served exclusively by the sushi chef directly in front of me, Cruz Blanco.

Upon taking my order, the chef plated up some ginger and scooped me a bowl of pickled cucumbers and octopus as a little palette cleanser. I must admit I was not too impressed the flavor was a bit to acidic and the cucumber felt as if it had been marinating a little too long.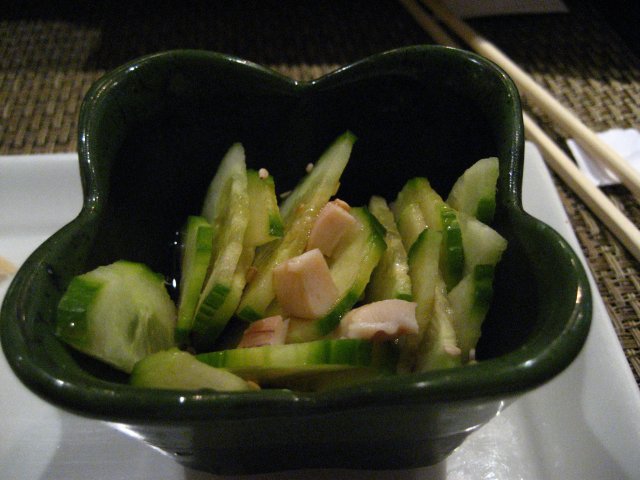 My first real course was one of the specials, a Japan Tofu topped with asparagus, small slivers of ginger and avocado. The entire dish came seated in a small pool of oil which I initially took for truffle oil but, I believe it was truffle oil. The dish was sweet and cool with a nutty flavor. All in all an interesting course, my only complaint would be the tofu's texture which I found a bit heavy.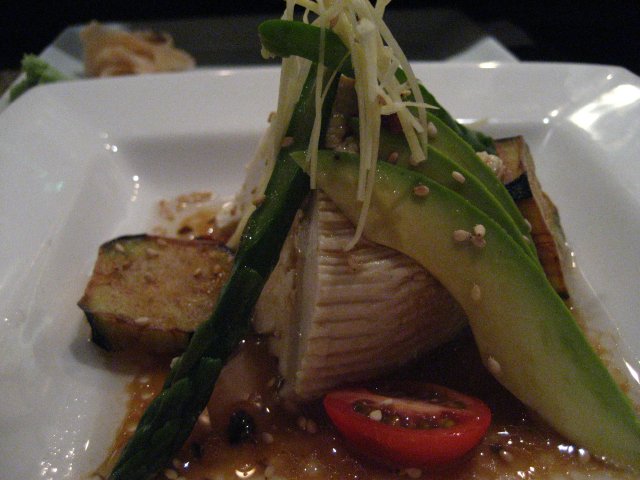 After a long wait the next six courses were served simultaneously. This was a bit overwhelming and I would have preffered them bring the courses individually, but they were so busy that probably was not an option.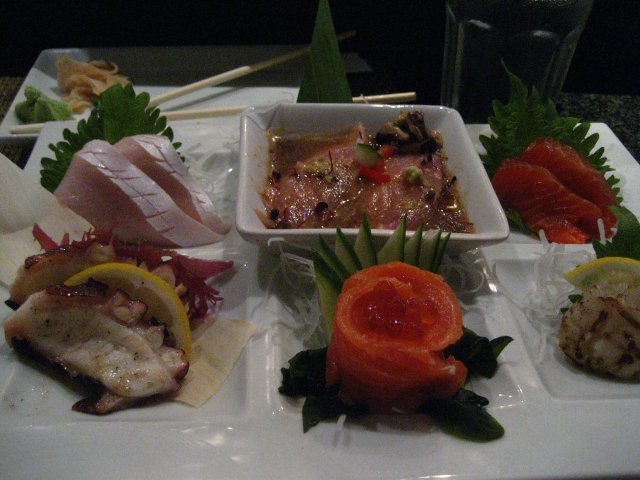 Grilled Octopus - A delightful grilled flavor and a soft yet resistant texture, delicious with citrus or without. This left a strong impression and would remain a favorite of the evening.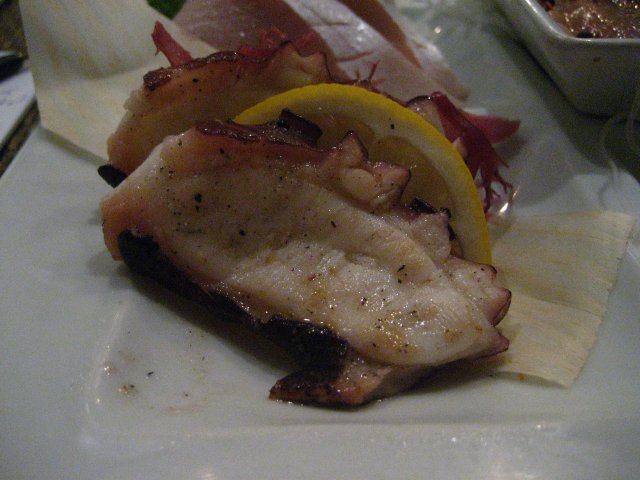 Copper River Salmon with Ikura - A semi-miss, the salmon was fresh and clean, but the piece was huge and the Ikura was not fresh. When I bit into the eggs they did not pop cleanly, releasing sweet briny goodness. Instead a tepid flavorless liquid oozed out.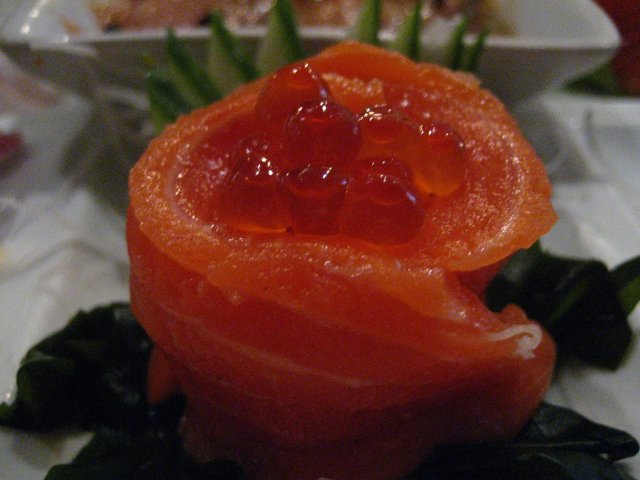 Grilled Scallop - This was similar in flavor to the grilled octopus but with a bit more bitterness, definitely better with a bit of lemon juice. The texture was quite nice but not the best I have had.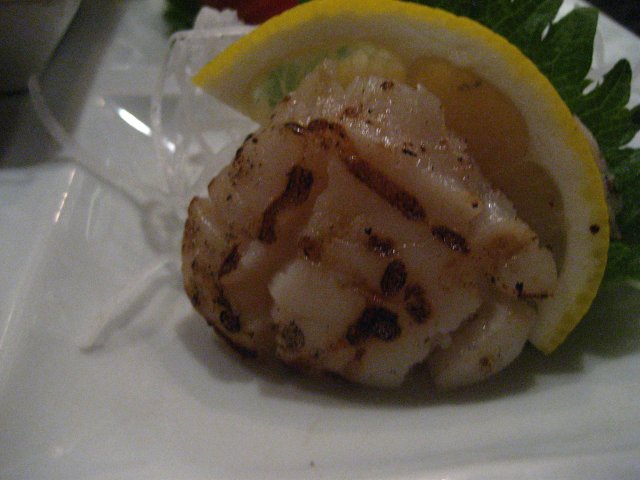 Yellowtail Belly - I like yellotail, I like toro combined this should be a no brainer and it was. The flavor of fresh yellowtail coupled with a heavier slightly fishy fattiness.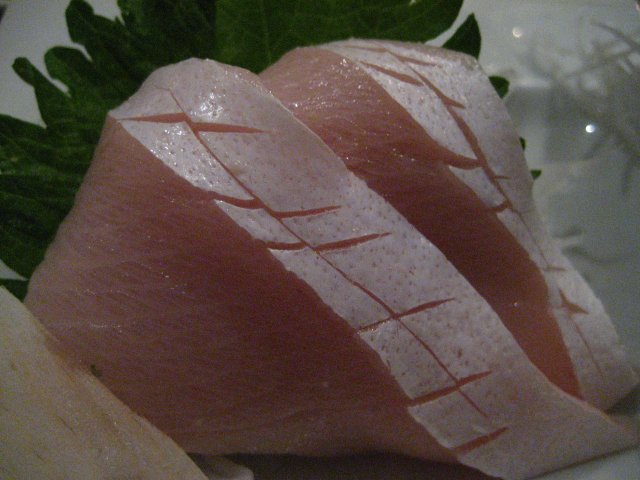 Albacore "Ceviche" - Interestingly enough I hate cooked albacore but I have come to develop quite an appreciation for the raw stuff. The texture was quite nice and the sauce was salsa-like and a very refreshing partner.



Marinated Sea Trout - I almost mistook this for salmon at first glance, but it is actually soy-marinated sea trout. I wasn't very fond of the fish but I distinctly remember thinking it was a quintessential trout.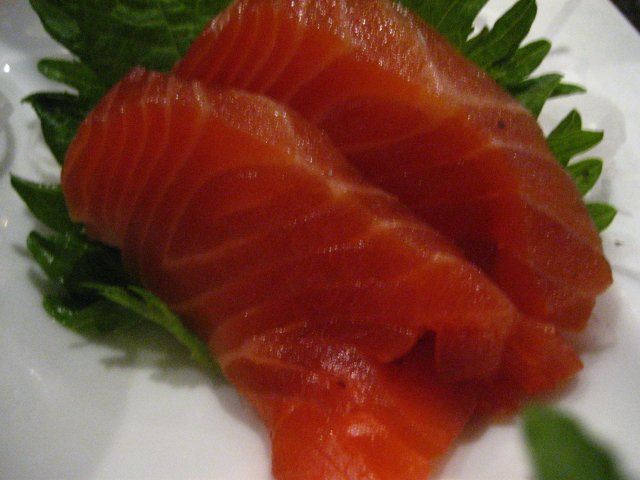 Next came all the nigiri. I got two pieces of grilled toro (ate one before I remembered to snap the shot), Spanish mackerel, Copper river salmon tartare with american caviar, and kampachi.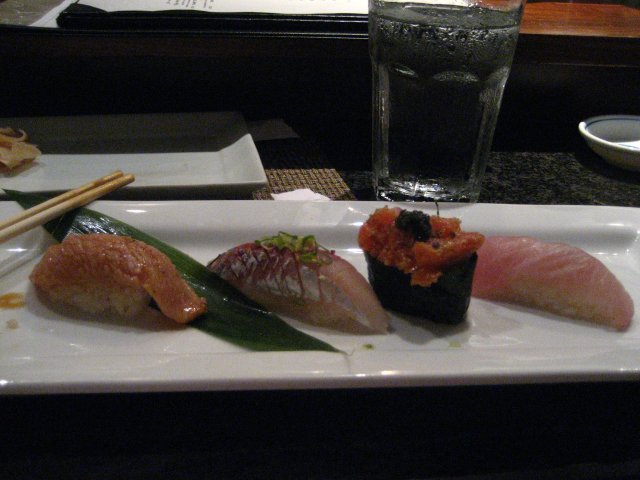 Grilled Toro - I would have liked raw toro, but I'll settle for the grilled stuff. The fish had an intense bbq-like flavor no doubt due to the grilling. This did overshadow the fattiness somewhat but still made for a very good piece of toro.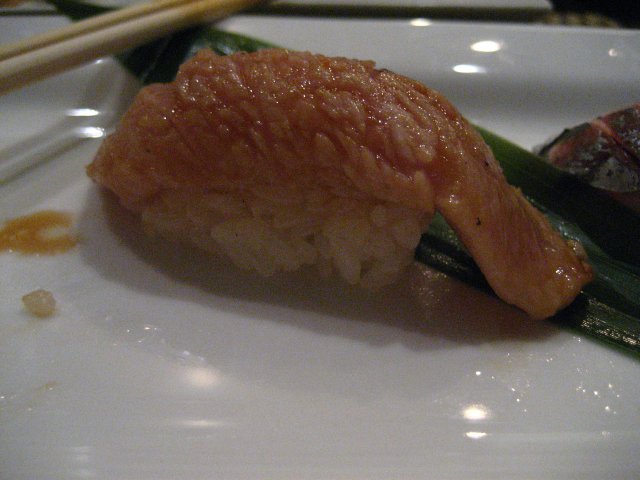 Spanish Mackerel - A common staple of my sushi diet, this was a very respectable piece of Aji.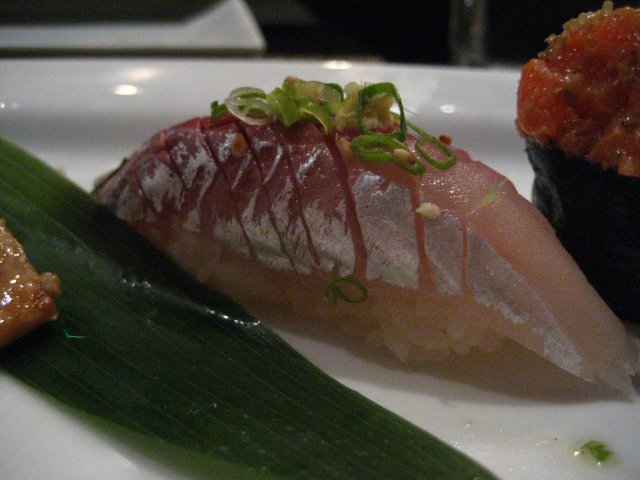 Copper River Salmon Tartare with American Caviar - Another salmon dish another disappointment. I found the caviar's flavor overpowered by the blase creaminess of the sauce used to flavor the tartare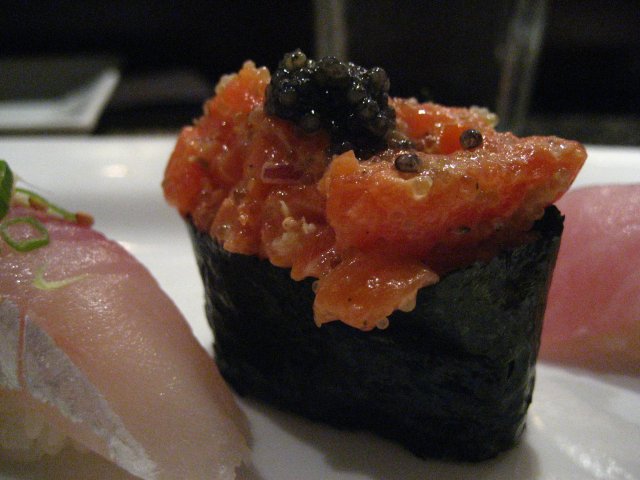 Kampachi - At least these guys know their yellowtail. The kampachi was soft tender and very fresh.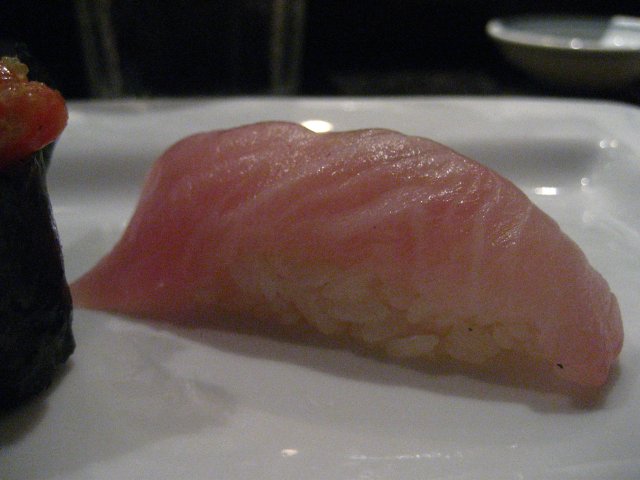 Next up was a lovely plate of baby snapper and uni with a citrus sauce.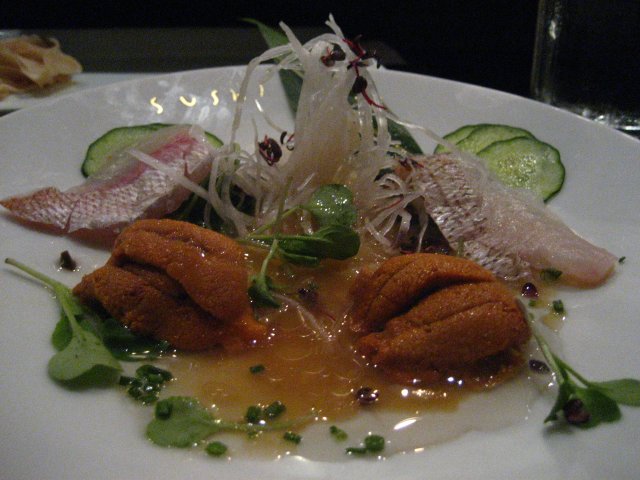 Uni - This was definitely the weaker of the two. The uni started sweet but had a bitter almost rancid finish. One of the couples sitting next to me even mentioned as regulars the sushi chefs warn them when the uni is sub-par. Perhaps as a new diner I did not warrant the same courtesy.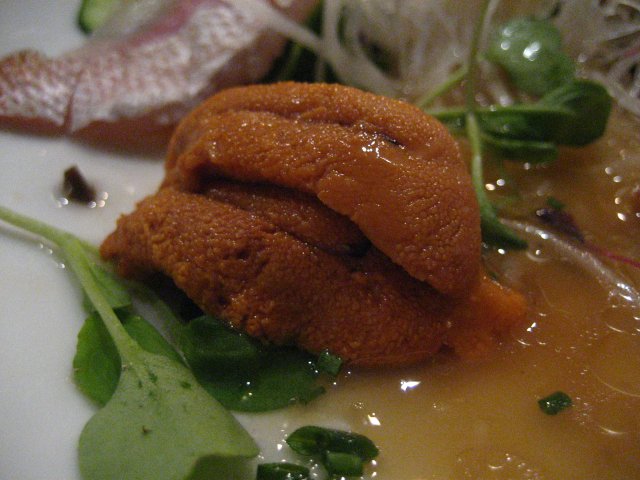 Baby Snapper - Beautiful translucent flesh covered with shiny silvery skin this was the biggest surprise of the meal. The fish had a light crisp texture and it's delicate flavor was perfectly accented by the citrus.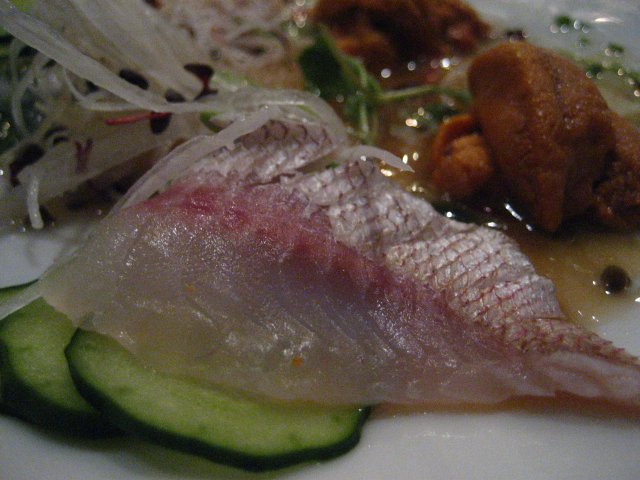 At this point, Cruz asked if I had enough, I decided to have one last order before calling it quits. Fittingly, he offered me a special, a fish they only rarely get from Japan, Kodai or what he referred to as Japanese Sardine. Kodai Roll - The roll came with a bit of sesame, shiso, and ginger as well as a translucent slice of pickled kelp. I have had this fish on a couple occasions always with mixed feelings and this was no different. The overall flavor was a bit harsh even acidic and the sesame was definitely too strong.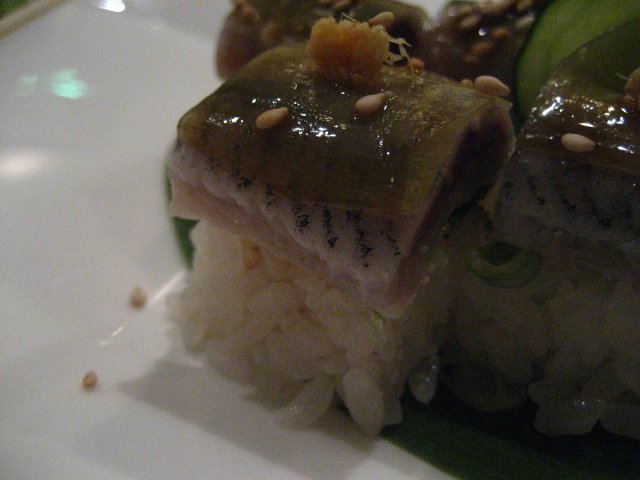 For dessert I had a tiramisu made by the owner's wife. Nothing particularly memorable about the dessert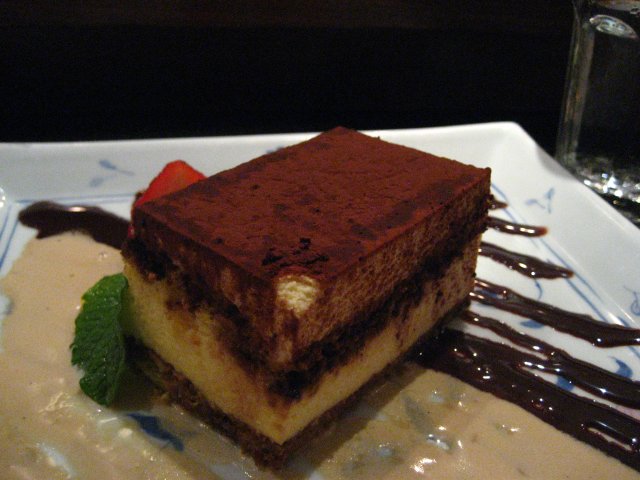 The final bill came out to be 135 for the meal with dessert and one drink. I have to say this place is very respectable. It does not compare with the best restaurants in Southern California, but the fish is fresh and they do have some surprising items on the menu. When I left there were still a handful of people waiting outside and the bar was packed so whatever they are doing they are doing it right.

If you ever find yourself in Denver and are looking for sushi I highly recommend Sushi Den

Home