The Spago in Beverly Hills is the jewel of Wolfgang Puck's sprawling food empire. My previous experiences with Wolfgang have been downright dismal. My first meal was at the Wolfgang Puck Cafe that USED to be at the Irvine Spectrum. I say used to because I thank the powers-that-be that decided to close down that culinary abyss. My second experience was just as dismal at the Spago in the Forum Shops in Las Vegas. I chalked that up to the fact the dining room only does dinner and lunch is served in a cafe style frighteningly reminiscent of my Irvine experience. However, I am happy to report the third time is the charm.

My friends and I had wanted to try Spago for a little over a year now. I read several horror stories, of how "regular people" get treated compared to celebrities. For example, the closer you are to the kitchen the lower you are on the totem pole. This isn't a problem for me since I went to eat not stargaze.

I almost didn't make it to Spago. The original plan was to have the tasting menu and Beluga caviar. As you may know, Beluga was added to the endangered species list and caviar imports were banned in October 2005. Of course that does not account for existing stock which is still legal. The online Spago menu still lists it as an appetizer. Sadly, I called two days before my reservation date and was informed they were serving Oscetra rather than Beluga. To add insult to injury the hostess told me she wasn't sure if they were offering the tasting menu the day we were scheduled to go, but to call the day of and check.

I must admit I was leaning heavily towards canceling my reservation and going elsewhere. However, I called the morning of my reservation and the hostess said the chef could make something for us. That struck me as a bit offhand; the way she phrased it. Almost as if they could scramble and make something, which lead me to fear for the quality. One of my dining companions read that Spago really shines when they do the tasting menu, its as if the staff gets exited by the challenge and rises to meet it.

When we arrived a smartly clad hostess took us to our seat (yes pretty close to the kitchen). Our waitress took our drink orders. I had a Flying Dog beer and from the nose to the finish this beer was fruity. The taste was quite bitter but the citrusy taste mitigated most of that. I quite enjoyed this beer, starting to get away from the wheat beers that used to be my staple. One of my friends went against the norm and ordered a mojito, quite nice subtly sweet with a lingering mintiness that never really comes to the fore, but serves as an excellent support.

A quick note of thanks to Kevin for the pictures. My camera was drained from Alinea and Trotter's the weekend before and like a moron I forgot to charge it.

Without further ado, let's eat!

AMUSE BOUCHE:
This was the most amuses anyone in my party has ever had, weighing in at 5. In fact there were so many, after the third amuse, one of my companions said "if all the courses are this small I'll still be hungry after 9." I smiled wryly and noted that we were technically hadn't started eating.

Moet & Chandon Brut Rose 1999
Spicy Tuna Tartare in a Seasme-Miso Cone
I have been a fan of tuna tartare for a long time and it is one of the staples I used to use to judge a restaurant. I have gotten away from that recently since it isn't always on tasting menus. I am happy to report this was an excellent tuna tartare, served in a crunchy slightly sweet and spicy cone. An excellent way to start the meal and one of Wolfgang's signature dishes.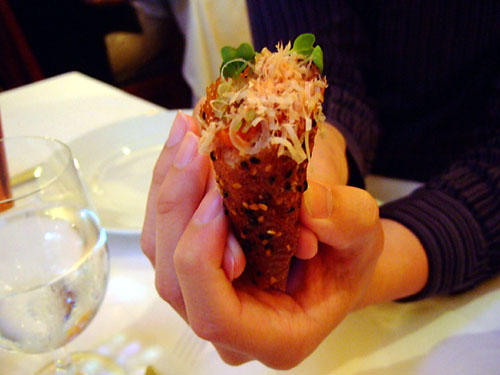 House-Smoked Salmon on a Lemon-Herb Blini
Beautiful smoked salmon served with shallots, chives, creme fraiche, and a blini. I also noted a hint of dill making this a very classic serving of salmon reminding me very much of gravlax. Naturally, I think caviar when I see a blini although apparently it has become chic to pair them with smoked salmon as well.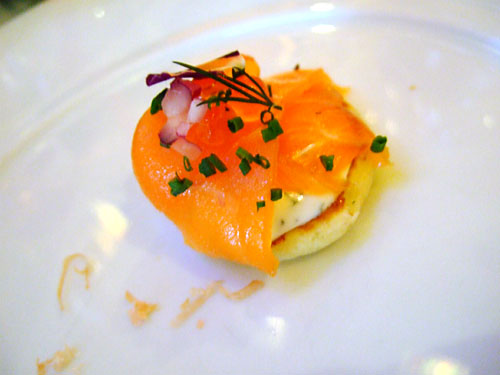 Hamachi Ceviche
Third in a series of fish dishes. Actually at this point I started thinking of a sushi restaurant since tuna, salmon, and yellowtail are three very standard types of nigiri I used to order. I am of the belief hamachi should be enjoyed with minimal accessories as they can mask the natural flavor of the fish. Sadly that was the case with this dish.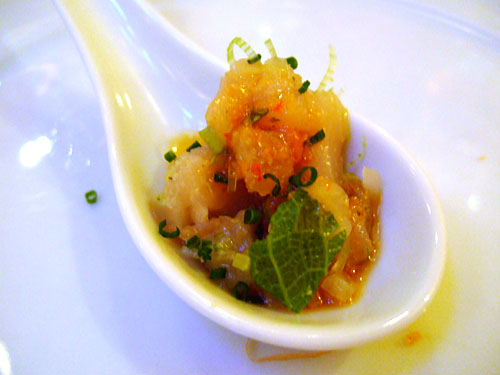 Oscetra Caviar Tart
I am definitely glad we didn't order the Oscetra caviar since we were served it as part of the pre-dinner festivities anyway. A generous dollop of Oscetra came atop a quiche-like tart. The caviar itself was quite good, but I wish it came atop a blini with the classic fixings rather than with the tart. The cheesiness of the tart really took away from tasting the caviar.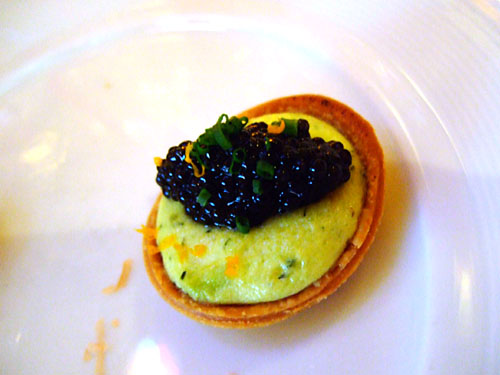 Bacon Confit En Croute
The last of the five amuses was to me the most mundane, but I suppose it made sense going from cold to hot. Four pastries filled with smoky bacon. I foolishly ignored the waitress' warning that the pastries were hot. The heat really detracted from my ability to taste, but I still got the textures. The outside was flaky and everything I look for in a pastry, while the bacon was soft.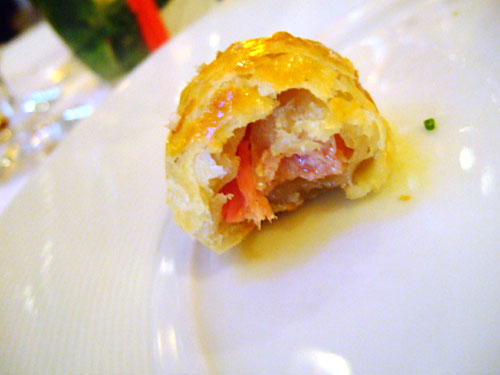 Cucumber Sorbet, with Orchid Oolong Ume Boche Plum Tea
There was some confusion whether this was an amuse or the actual first course. It didn't help that they did not pair any wine with the dish. Turns out this was the first official course. I think this dish serves as kind of a cleanser between the amuses and the actual meal. Cucumber served right can be quite refreshing and one would think the combination of cold sorbet and cucumber flavor would be the epitome of refreshing. Unfortunately the plum imparted a very tart flavor that when paired with the sorbet robbed the cucumber flavor of its refreshing properties. For me this was the worst dish of the night hands down.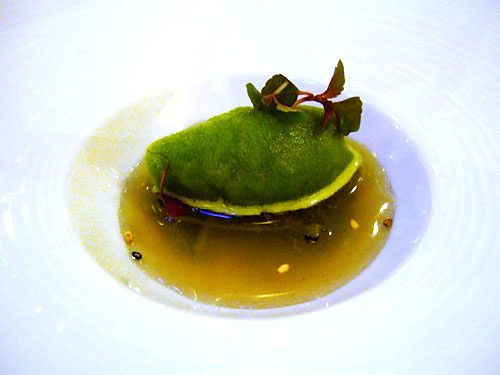 Maryland Crab Duo: Crab and Avocado "Ravioli" with Meyer Lemon Vinaigrette, and Sauteed Maryland Crab Cake with a Basil-Pesto Aioli
Henry Pelle Menetou-Salon 2005
On the heels of that poor showing came a duo of crab (one hot one cold) that really impressed. We had a cold "ravioli" that was really like a crab salad covered in avocado. The sweetness of the crabmeat really came out in this dish and the creamy avocado added a nice base without imparting too much flavor. The crab cake was also quite good, but the basil-pesto aioli really stole the show here. Hands down the table favored the crab and avocado.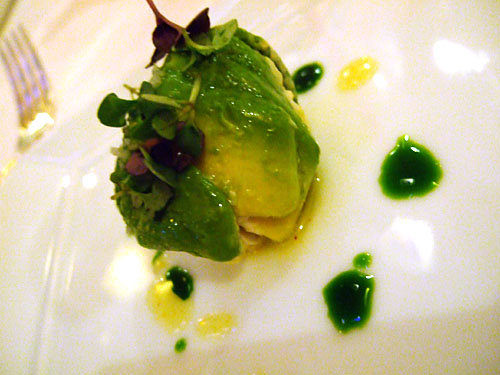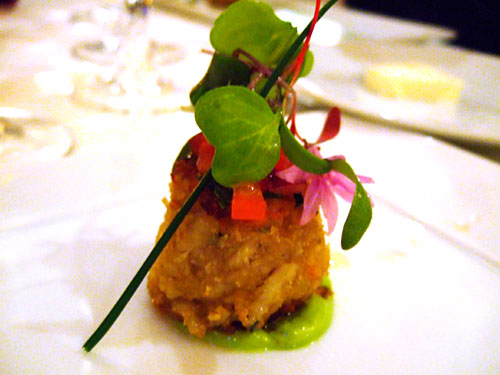 Sauteed White Asparagus, with Morel Mushrooms, Crayfish, and a Warm Bacon Vinaigrette
Verdad Rose 2006
The second time I had white asparagus in one week. I am not a big fan of asparagus and in general fail to see what makes it such a "gourmet" dish. I was pleased with this serving of asparagus. The morels were beautifully prepared, adding a nice nutty, earthy flavor with an almost meaty texture. The bacon vinaigrette certainly tasted of bacon, but had a general meatiness that reminded us of steak sauce. All in all not a bad pairing with the nice meaty stalks of asparagus.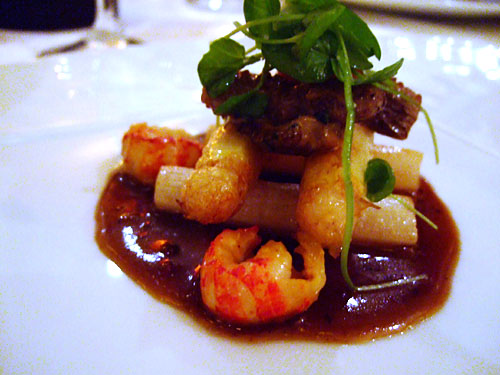 Pan-Roasted Alaskan White Salmon with a Cilantro-Mint Raita, Chana Dahl Lentils, Eggplant Masala and Cucumber Chutney
Cesconi "Olivar," 2004
Can't really say I enjoyed white salmon any more than the standard. I was however really impressed by the flavors. It was a very Indian flavor albeit with the spice toned way down. The subtlety of the cilantro-mint was a bit lost on me, but I did enjoy the unique flavor. Normally I disdain lentils but I thought the grainy texture really added something to the fish.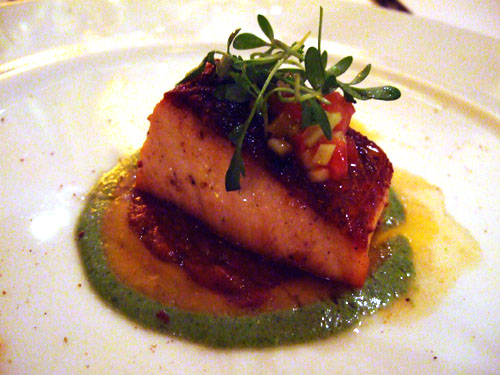 English Pea and Mascarpone Agnolotti
Marc Colin Saint-Aubin 2004
Another dish I never would have thought I would enjoy, this turned out to be the biggest surprise of the night and ranks extremely highly overall. The English peas had a nice sweet flavor with none of the unpleasant taste I normally associate with peas. Furthermore the texture upon mastication was smooth. I don't know how Chef Hefter did it but he took peas and Mascarpone and made an unforgettable sweet rich dish. I wouldn't go so far to call it my favorite but my surprise at this dish certainly makes it the most memorable.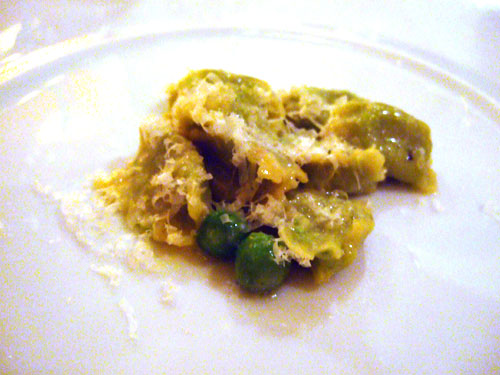 Rabbit Duo: Herb Brioche Stuffed Loin and Rack "En Persillade"
Villa Geggiano Chianti Riserva 1998
I had rabbit once long ago and I wasn't impressed, but my last few experiences have all been top notch. We were presented with another duo two lovely pieces of loin and a cute rack of rabbit. This was no different. The stuffed loin was tender and flavorful with a wonderful zestiness and it went especially well with the sauce. I wasn't so fond of the rack. It was okay, but I thought it was a bit too dry and the flavors were a bit too bland. In my group we had 3 favor the stuffed loin and only one fan of the rack.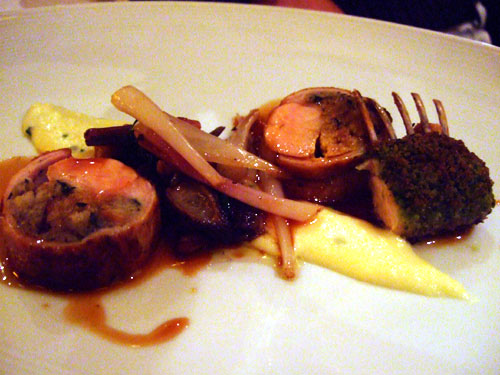 Lacquered Carpenter Ranch Squab with Rhubarb Puree, Stir-fried Green Beans, and a Port-Licorice Reduction
Barrel 27 Syrah 2005
Wow! I love squab and this may be the best squab I ever had. My dad is probably mortally offended since he used to have a restaurant in China that served some damn fine roast squab. But sorry dad, but the quality of this bird is just incredible. The skin is perfectly crispy, the meat is tender, and most importantly there is a thick unctuous layer of fat sandwiched in between. The sauce is a beautiful blend of Eastern and Western influences, using a port base along with licorice to give it a very anise like flavor. The stir fried green beans make for a crisp delicious traditionally Asian side.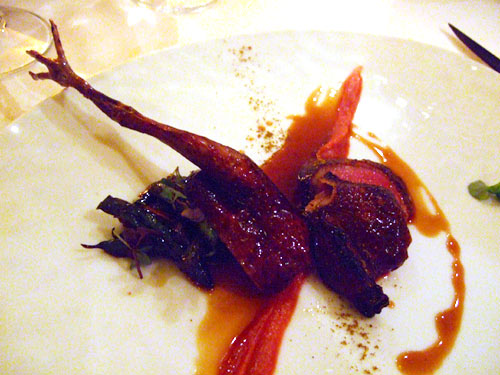 Grilled NY Steak of 100% Japanese Waygu Beef, with Wasabi-Pea Puree, and a Yuzu-Kocho Emulsion
Cascina Morassino Barbaresco 1996
Technically the savory part of our meal ended with the squab. However, thinking ahead during the salmon we asked if it would be possible to request an extension if we were still hungry. Our waiter came back with an offer of Kobe Beef. He started describing the dish then paused and said he had to verify they actually had Kobe Beef before he got our hopes up (although it was already too late). When he came back he confirmed they were not serving Kobe, but he offered to get some from their sister restaurant Cut. Sure the restaurant is less than a quarter mile away, but still that's a unique service I have not gotten anywhere else. Sadly the beef itself left something to be desired. The cut was very tender but it lacked the melt-in-your-mouth quality that is attributed to good Kobe. Furthermore, though well marbled, the beef lacked the overwhelming buttery flavor that is another staple of Kobe. The flavorings, while good, were not enough to overcome the inherent weakness of the meat.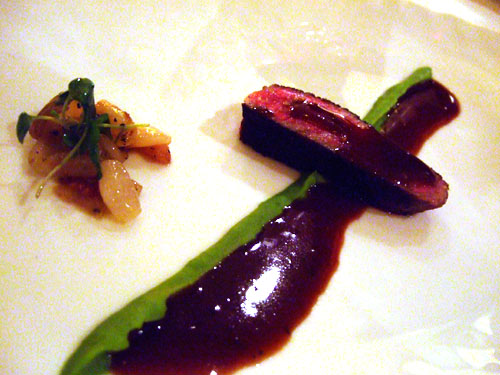 Cheese (clockwise from bottom left): Dom Villas (Spanish Goat), Brillat Savarin (French Triple Cream), and Azul (Basque Blue)
Wittmann Riesling 2005
I am the first to admit I am not a cheese person. Pretty much anything beyond the most basic is beyond me. As one of my friends said eating fine dining prix fixe menus, I better learn to like cheese. I have been warming to the stuff but some of this was beyond me. The Dom Villas was mild and firm a pretty easy cheese to accept. The Brillat Savarin was also fairly mild but the soft gooey texture was a bit much for me. It was very thick and heavy. Lastly the Azul was head and shoulders above me, soft texture with an intense flavor that I could barely get down. Even two of my other dining companions thought it was too intense and they love blue cheese.



Chocolate and Hazelnut Tart with Chocolate Sorbet
Kracher Cuvee Auslese 2003
A surprisingly unsubtle finish to a very good meal. Intense and simple flavors of chocolate and hazelnut a classic combination, but somehow I expected something with more complexity. Ah well who am I to complain at this point. I still ate it.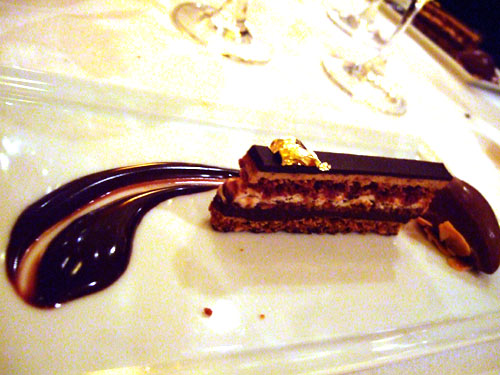 Petit Fours
As with the previous sweet course the petit fours were quite simple, a chocolate truffle and a chocolate caramel. Simple but still quite delicious!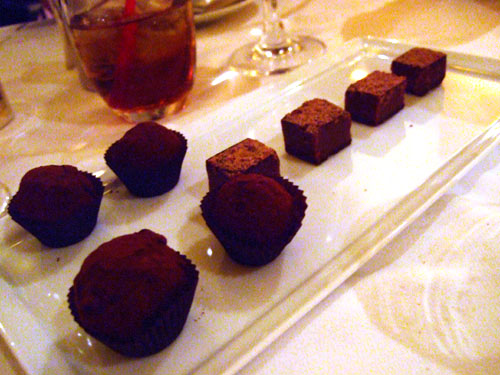 As is customary, the meal ended with a tour of the kitchen. We were actually given a relatively detailed tour and since our reservation was somewhat early, the kitchen was still busy. We had to stand on the outside but a number of the staff were kind enough to pose for pictures and say a few words to us. As I mentioned earlier, I was a bit apprehensive about coming to Spago, but it was a hit with every member of our dining party that evening. In all honesty, all the diners we saw there seemed to enjoy their meal a great deal. Maybe one day way off in the distance, I'll come back and order a la carte just to see how it is. However, for my money, I'd rather spend $300 and get an unforgettable meal. Dining at Spago the right way, I can truly see what gave Puck the name he has.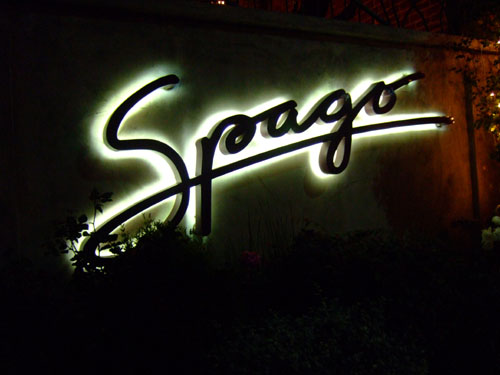 Home