Alinea
1723 North Halsted, Chicago Illinois 60614

Alinea has been hailed as one of the best restaurants in the country (best in the US according to Gourmet Magazine 2006 and the highest new entry in Restaurant Magazine at 36). Grant Achatz opened Alinea in 2005, I first heard about this restaurant in GQ of all places early 2006, in an article hailing Chicago as the forefront of avant garde cuisine in the US.

WARNING: To get the best experience from Alinea I think going in totally blind is the only way to go. Don't look at the menu online. Don't read too many reviews and descriptions. Just go and experience it for yourself. Let the chef surprise you at every turn. Now if you can't stand spending $200-$400 without doing a little due diligence, I understand. I myself don't think I could have contained my curiosity; however, I wanted to offer fair warning. The menu changes seasonally and once Chef Achatz feels a dish has no room for growth, he removes it from the menu. In all likelihood you won't get the same menu I did, but he still uses similar preparation methods and themes, so even then you will have some advanced knowledge.

This shrine of molecular gastronomy is located in a dark nondescript building and I actually drove past it while I was first looking at it. On the second pass armed with a description, I still almost missed it but for a small sign that said Alinea valet parking.

Upon entering one is struck by the odd lighting and a strange rattling sound. The metallic rattling demands closer inspection and as you walk towards the far wall the room closes in around you. My girlfriend walked in ahead of me and it presented a cool optical illusion of her growing taller and filling the entire hall. Before you get to the source of the mysterious noise you will pass a sliding door that opens to reveal a very stylish and austere hostess and reception area. I think in the shock of the moment, the noise is forgotten and one quickly enters the restaurant. Each of these unique touches reminds the diner that this is not your everyday restaurant and the presentation is as important as the food.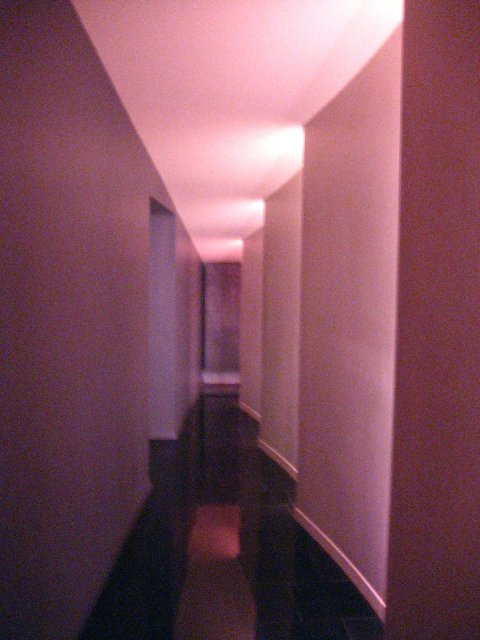 When you enter the restaurant the kitchen is off to the right and the left has a small dining area. There is also a flight of stairs leading to a second dining area behind the hostess. We were seated in the downstairs left dining room. The area felt small but it only held 2 tables and a bench with three more tables. We were seated in the corner of the bench seated next to another couple that had come to Chicago to celebrate and happened to be heading to Charlie Trotter's Saturday just like my girlfriend and I planned. I felt a touch out of place with a camera and paper but nobody commented so I am guessing it happens pretty frequently. This is also the first of several fine dining restaurants I have been to recently where the staff asked if I worked in the restaurant business myself. I must admit, I do quite enjoy the ego stoking even if it is grossly misplaced.

When our waiter arrived he remembered I had requested the 24 course menu in advance and verified if we were still interested in the tour. We signaled the affirmative which brought the next question, alcohol. I was a touch worried the wine would interfere with my tasting especially given that there are 10 or so glasses, but I finally decided why not get the full experience. I had the wine pairing, sadly I forgot to ask for the upgraded pairing which had a few more glasses, ah well there is always next time.

Before bringing the first course one of the many servers of the evening brought out two sprigs of rosemary to serve as a centerpiece (although they put it in the corner) and to serve later in the meal. I would like to note the servers were very enthusiastic about explaining the cuisine. They definitely revel in their roles in the process. Moreover, the veritable army of servers work well together sharing tasks and taking on different roles as necessary to provide a very well polished service. They were also happy to take personal initiative offering extra dollops of wines that I seemed to favor.

CROQUETTE - smoked steelhead roe, several garnishes
L. Aubry Brut Champagne with Pineau des Charentes
The server described it as a liquid croquette of salmon and creme fraiche. The toppings included candied endives, chive, steelhead roe, and a caper. This came served on a small pedestal our server told us to lift the pedestal and bite the morsel off. The initial crunch gives way to a warm, slightly salty, rich cream filling. The fish roe balanced well with the accompanying flavors rather than overpowering them.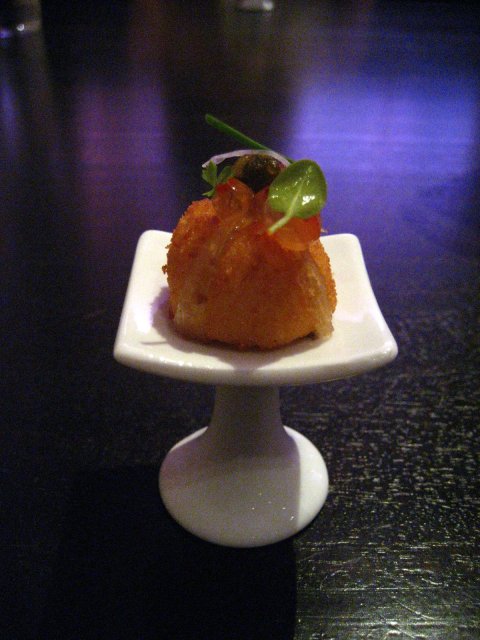 OCTOPUS - shiso, papaya, toasted soy
This dish came in a rounded bowl that needs to be held while full, but balances once emptied. In addition to the listed accoutrements, this dish came with wasabi leaf, jalapeno, avocado, and a liberal helping of shitake (black stuff underneath the octopus) The octopus had a slightly softer texture that I prefer to the more rubbery texture I normally get with octopus. The shitake ended up being the dominant flavor. That is until you try the liquid in the bowl. It is a thick yellowish mixture of soy milk with shiso. The initial impression I got after eating the octopus was a salty flavor but that quickly turned to a minty flavor. Coupled with the thick texture felt like a mouthful of briny toothpaste. Loved the delicate top, could have done without the chaser.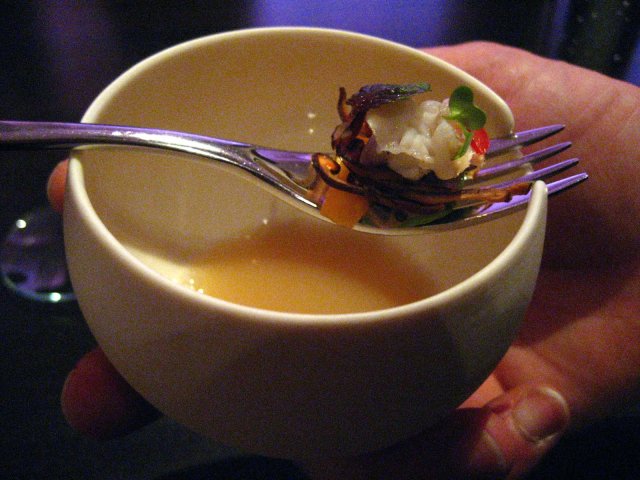 CHANTERELLE - carrot, curry, ham
Frecciarossa Pinot Nero Bianco "Sillery", Oltrepo Pavese, Italy 2005
Coming in a glass cylinder, I spent the first few seconds staring at this dish wondering how I'd eat it out of the cylinder. Fortunately the servers lifted the glass causing the contents to spill free. I am a sucker for mushrooms and chanterelles are among my favorites and this dish had them two ways sauteed and a pate. The dish also had nuts, spinach, and what seemed like candied fruit and depending on what was paired with the bite the flavor and texture changed dramatically. This was served with a pinot nero, basically a white pinot noir. The off-dry spicy flavor went well with the dish.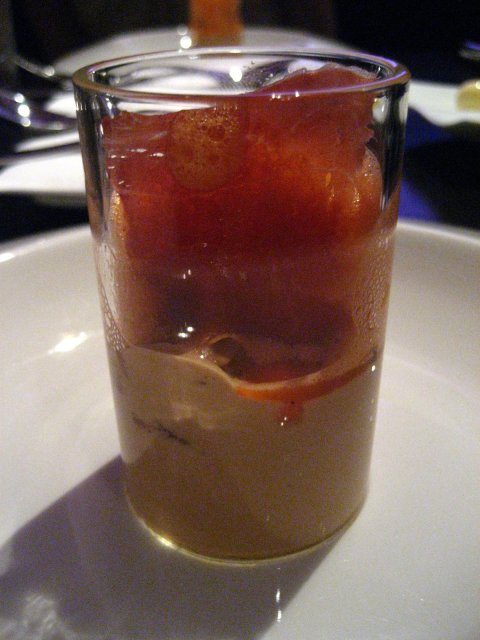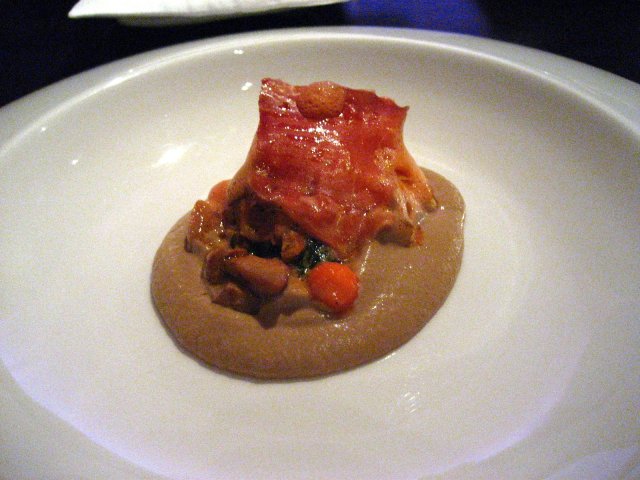 APPLE - horseradish, celery
One of the few dishes that actually printed all the ingredients involved on the menu. I actually thought this looked quite cool nice green and whites served in a heavy shot glass. For some reason the green liquid didn't repel me. That is until I found out what it was, celery liquid. I'd call it celery juice but the smell and taste seemed even stronger than natural celery. The white ball is made of horseradish and the apple that is the main part of this dish is juice inside the horseradish shell. I think the small sprig on top of the ball is a sprig of celery leaf. When you crunch on the horseradish shell a burst of sweet apple is released. Unfortunately that is swiftly dominated by the spice of the horseradish which finally succumbs to the celery. This dish tasted salty almost fishy to me although I don't know how I got that out of this combination. Ultimately, a course I could have done without.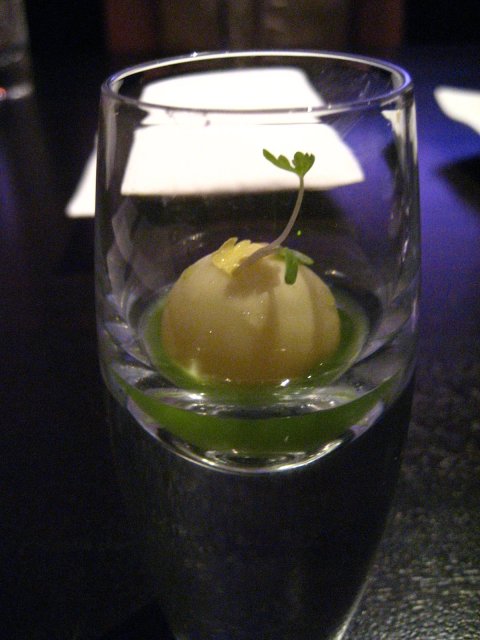 MONKFISH - banana, onion, lime
Morgan "Double L" Chardonnay, Santa Lucia Highlands 2005
Served in a deep bowl was a combination of monkfish, fried monkfish skin, lemon and banana creams, monkfish liver puree, garnished with shaved onion and sprigs of chive. We were advised the elements of this dish was meant to be tasted in concert to experience the chef's vision. Fortunately there was enough of this dish to try each element separately and still try them together. Naturally I had to ignore the advice and try the different parts first and I found the waitress was absolutely correct. By themselves, some of the elements individually were flawed. The skin was too salty, the lemon creme too strong. Some components were fine alone: the monkfish was subtly sweet, the puree tasted like ankimo from a sushi restaurant but even fattier if that's possible (girlfriend loved this), and the banana cream didn't have an overpowering banana taste (both of us hate bananas). However when combined the flavor is exquisite. I can't even begin to describe why that is nor do I want to. I thought the wine paired with this wonderfully. Tasted alone the wine had a smoky flavor and nutty nose, but paired with the fish the smokiness subsides and is replaced with a slight sweetness.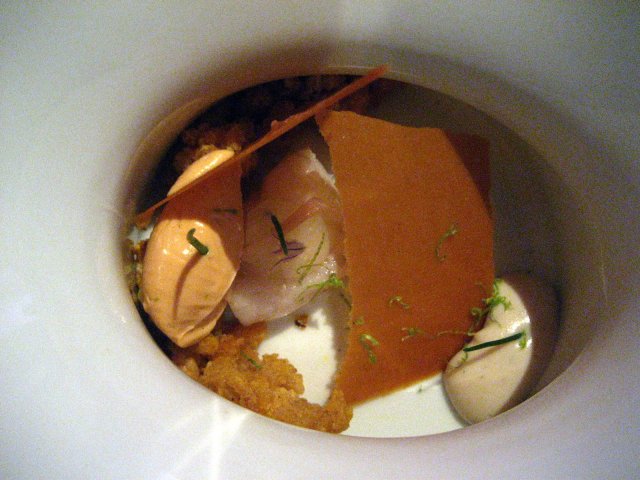 BLACK TRUFFLE - explosion, romaine, parmesan
The explosion comes from truffle essence the inside of the ravioli. The ravioli comes topped with a slice of black truffle, a touch or romaine and sliver of parmesan. The single ravioli comes on a spoon situated on the "anti-plate." Apparently this dish is a signature from Trio. The servers mentioned once Chef Achatz perfects a dish he moves onto new creations, I guess this is just too good to give up. In a night filled with exotic flavors the simple straightforward almost forceful explosion was very welcome indeed.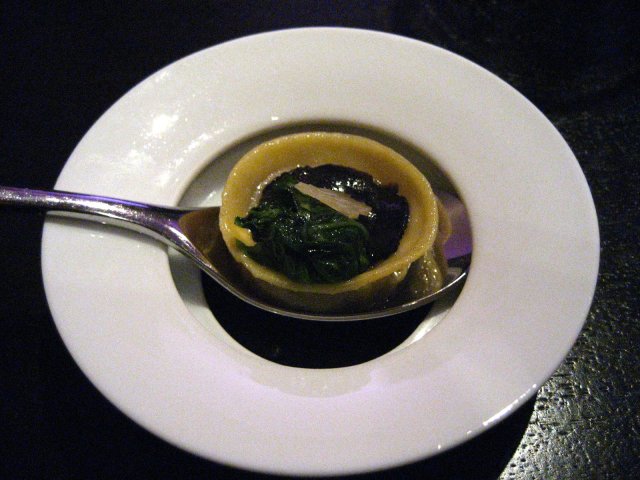 DUCK - mango, yogurt, pillow of lavender air
Rudi Pichier Gruner Veltliner Smaragd "Kollmutz", Wachau, Austria 2001
To me this was one of the most straightforward and simply delicious dishes the entire evening. Well, once you get past the pillow. First the servers placed pillows filled with lavender air that would release the scent once the weight of the plate is added. Duck two ways grilled breast and leg confit. The leg is fatty and melt in your mouth tender while the breast is firm but not dry and has a grilled flavor which a delicate hint of charring. The breast is topped with a whipped citrus yogurt and on the bottom is a mango puree. The yogurt provides tartness while the mango adds sweetness, both flavors go nicely with the duck, keeping the fattiness from making the dish too heavy. Almost as an afterthought there is a piece of duck skin served perfectly crispy. The wine had a nice nose of concentrated fruit and a taste of pepper and acidity on the palate.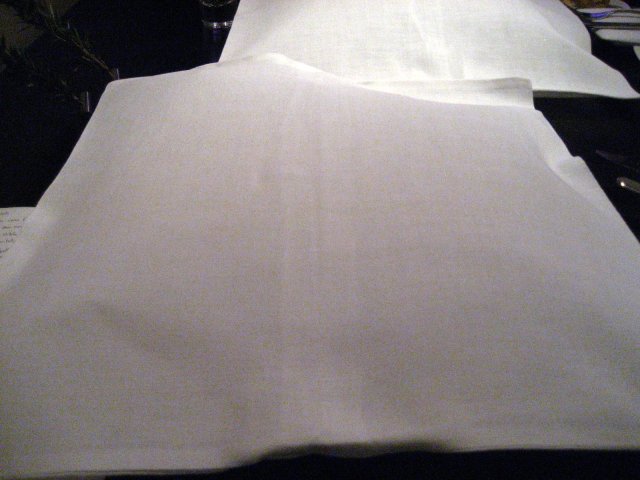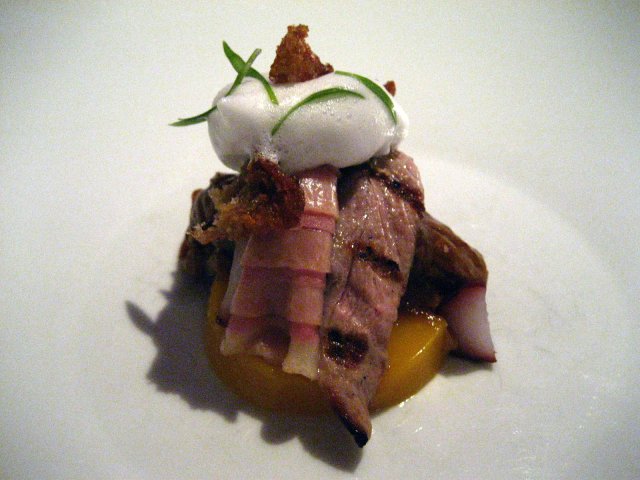 FAVA BEAN - parmesan, olive oil, eucalyptus
Our servers brought two small disks topped with frozen Fava bean puree. Normally I tend to scoff at any type of bean but the sweetness of the Fava bean was really something else. The smooth creamy flavor and the crunch of black volcanic rock salt really contrast with one another. The hint of eucalyptus makes this a wonderfully refreshing mini-course.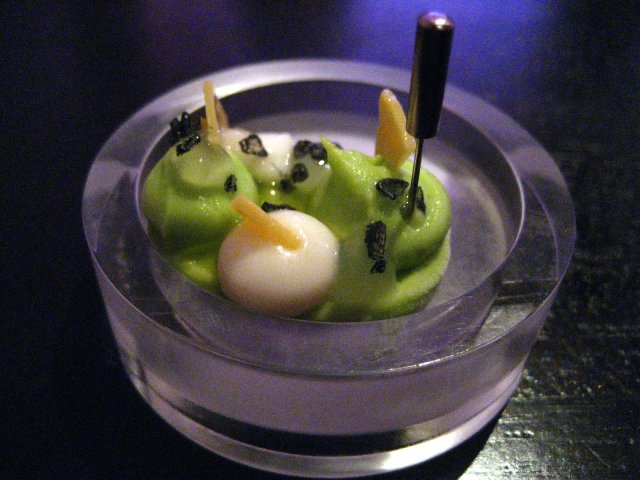 SHORT RIB - Guinness, peanut, fried broccoli
This was definitely one of the coolest looking dishes. Underneath a layer of thickened Guinness that looks almost like skin is a piece of Kobe short rib, toasted peanut puree, and broccoli puree. Drizzled on top of the beer is more toasted peanut, fried broccoli, and peppercorns. The short rib is tender and fatty, but too much peppercorns overpowered the other flavors of this dish. Also sadly the beer didn't seem to have much flavor and ended up being more gimmicky than anything else. I inquired about getting real Kobe beef. The waiter mentioned they got a shipment Monday, but sadly they ran out earlier in the week.



At this point I was starting to get full, having to finish off some of my girlfriend's dishes really takes its toll. I started to hear groans of relief from nearby tables as their meals came to an end. I asked the waiter if they did the tasting or tour and everyone around us only did the 12-course tasting. Naturally I was stricken with panic if people were barely getting through 12 how would I survive 24 plus supplements?

HONEYDEW - Blis sherry vinegar, mint
Another one biter, a single piece of honeydew wrapped in mint jelly shaped with a small indentation filled with sherry vinegar. Sadly this was one of the worst dishes of the night. The dish had an interesting texture thick gel surrounding crunchy honeydew, but the flavor didn't impress me. The vinegar definitely was the strongest, mixing with the mint to create a minty and medicinal flavor.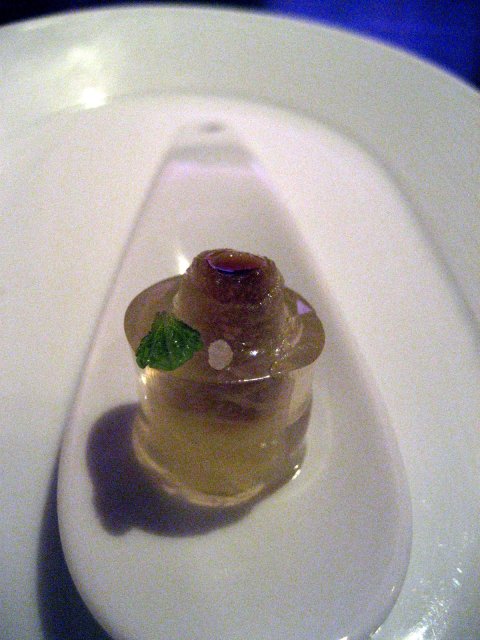 RHUBARB - goat milk, beet, long pepper
Muller-Catoir Haardter Mandelring Scheurebe Spatlese, Pfalz 2005
This could have been multiple courses, rhubarb served seven ways. We were told to eat right to left and rather than explain what each was the server decided my palette was sophisticated to puzzle out each part of the dish (I don't know if I should be flattered or worried). First came a rhubarb liquid in a beet skin. I thought this tasted vaguely like a plum. Next was one of the standout dishes of the evening, rhubarb ice cream (I think) served with streusel, cold and sweet with a thick buttery base. Third came rhubarb and goats milk jelly served on a steel tab, this was one of the most forgettable of the seven. Fourth was rhubarb foam with grapefruit pieces served on a bay leaf. The grapefruit and rhubarb combination was a touch muddled since both are somewhat tart, but the bay leaf added a nice herbal flavor. The next was the most memorable and not in a good way. It was rhubarb soaked in gin. I should have been able to puzzle out the juniper berry but the flavor and the mild burning drove out any thought but to clear that flavor out of my mouth. Soaking the rhubarb in gin drew out the water making it hard and crunchy. The burn of alcohol was definitely a surprise. The skin looking thing is a piece of sour rhubarb crisp, as if rhubarb isn't sour enough already. The piece started out crisp and dry but after chewing it a bit it moistened and had a texture similar to a fruit roll-up complete with getting stuck between my teeth. Lastly came green tea foam and rhubarb jello. I liked this a lot, sort of like sweet and tart green tea. All in all I enjoyed the rhubarb course, because if nothing else it shows the versatility and creativity of Chef Achatz, making several dishes with the same ingredients but each having distinctive characteristics.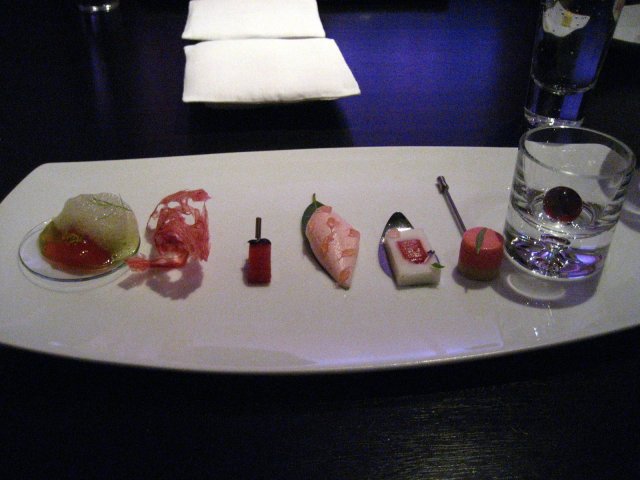 LICORICE CAKE - muscovado sugar, orange, anise
The hands-free licorice cake functioned as a delightful mid meal dessert. Served on a thin metal pole (lean forward and bite) was a thick piece of frozen licorice cake covered in spun muscovado sugar (think cotton candy) with a bit of orange jelly and anise. Reaching forward to bite the morsel, I was greeted with a pure rich cream with a crunch from the spun sugar. By far my girlfriend's favorite course (I think she would have been happy if the next 12 courses were all licorice cake) and a definite standout for me as well.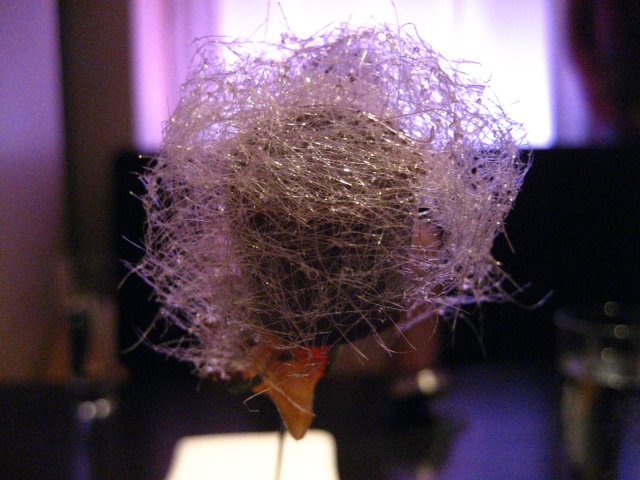 TUNA - candied and dried
This dish came in a cup that seemed far too large do hold such a thin object. This tuna has been brined and effectively turned into jerky with a marinade of soy, chili, and yuzu. Garnishing this stick of meat are slivers of ginger, yuzu zest, scallion, and black and white sesame. The dish evokes the image of a tree branch or a crazed straw. Upon biting into the meat the chili and ginger come to the fore. The yuzu adds appropriate acidity and the sesame flavor adds a smoothness that is sometimes overshadowed by the more powerful flavors. The fish itself is chewy and firm with a translucent brown color, a far cry from any tuna I have ever had before (or since).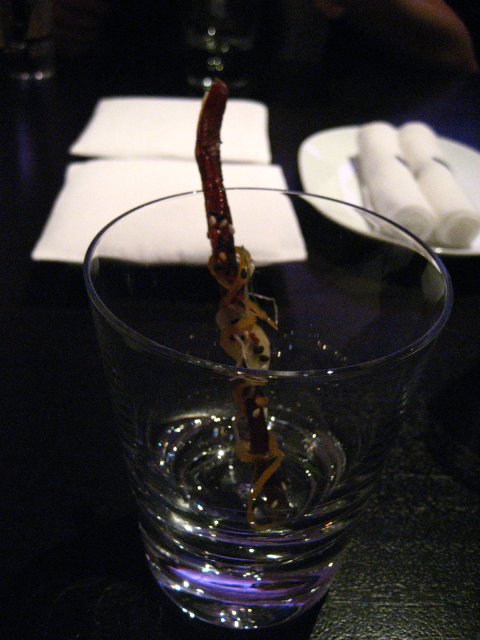 GREEN ALMOND - sweet, sour, salt, heat
This was a very slick and minimalist looking dish, certainly at home in Alinea. Inside a block of cucumber gelee is a green almond (immature). In the four corners are four distinct flavors sweet (sugar), sour (citric acid), salt (sea salt), and heat (cayenne pepper). The cucumber gelee is quite refreshing and the almond has a spongy texture not unlike an unripe plum. The almond itself also has a fresh raw flavor which is quickly confused by the 4 flavors. The minor flavors are supposed to support but they tend to get in the way of enjoying this dish.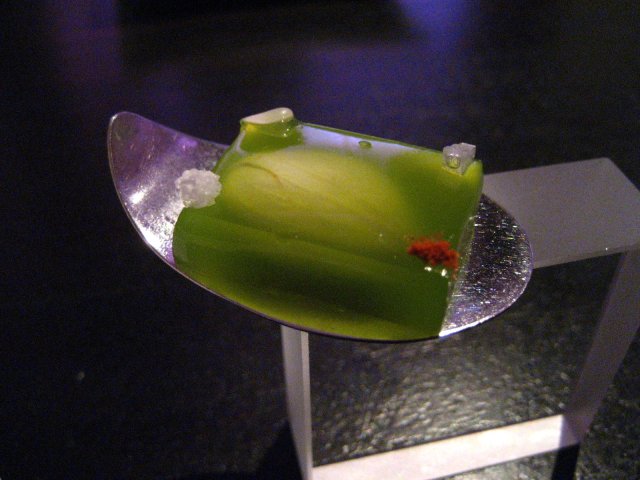 SKATE - caper, lemon, and brown butter powders
Ogier "Viognier de Rosine", VdP des Collines Rhodaniennes 2004
The skate wing is served with traditional flavors with one twist, the flavors are all in powdered form: caper, lemon, butter and parsley. There is also banana coq au vin underneath the skate. As might be expected the flavor is very traditional; however, the powders do provide an interesting texture, being grainy until they get wet where they sort of just become part of the dish and not distinct flavors.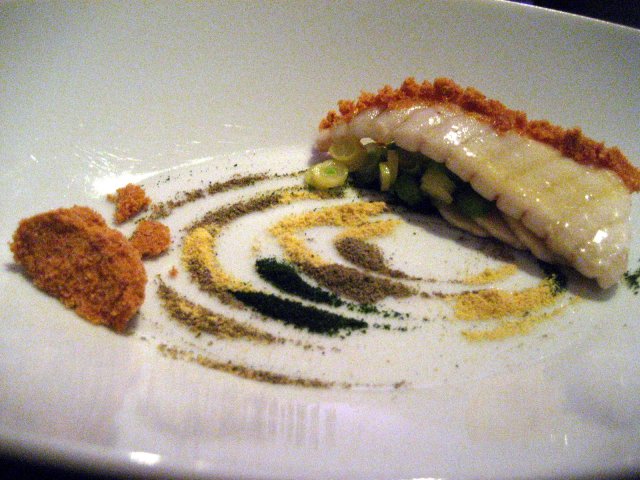 WHITE ASPARAGUS - chorizo, egg, red pepper
Philippe Portier Quincy, Loire 2005
A nice thick piece of white asparagus served with bands of flavor. The flavors include chorizo, egg yolk, red pepper, black trumpet mushrooms, orange, and herbs (parsley, cherval, tarragon). I tried to eat all the flavor bands at once to see how it would taste. A zesty orange flavor kicks off the dish followed by the taste of sausage, with a hint of spice. Not normally a big fan of asparagus in any form, and this won't be the experience that changes that.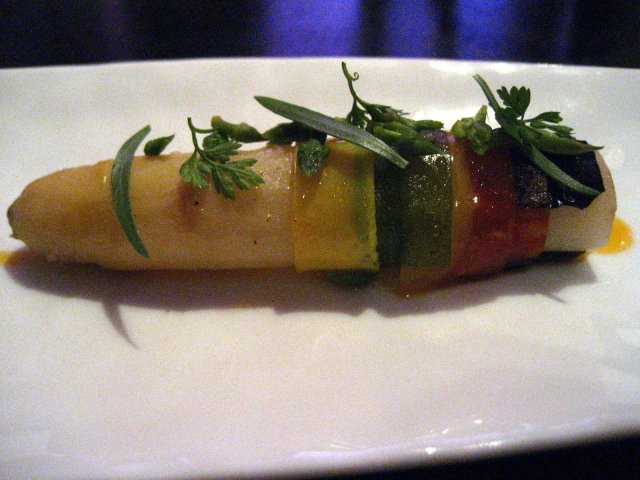 PINEAPPLE - bacon powder, black pepper
This little morsel is freeze dried pineapple filled with a bacon black pepper powder. The outside dissolves on contact with the tongue. Going from sweet and tart to smoky. I wonder if I chewed the candy would the textures and experience be different.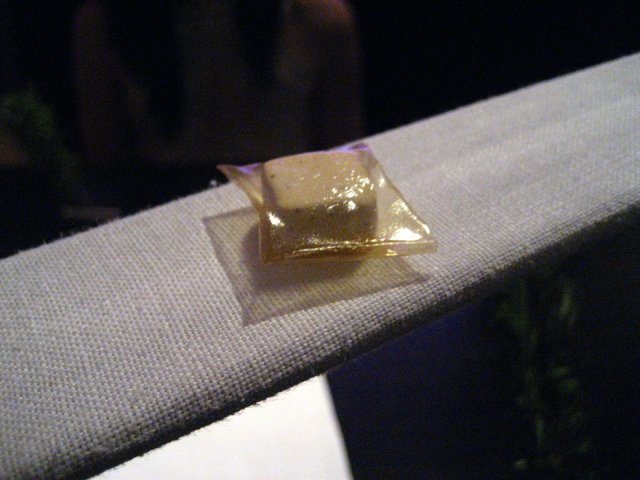 LAMB - date, mastic, rosemary aroma
Another course that has been around awhile. This is three small chunks of lamb come on a hot plinth. Remember that centerpiece, there is a hole at the top of the plate where the rosemary is placed. The heat is supposed to release an intense aroma of rosemary and I got that initially but the scent faded quickly. Each piece of lamb is topped with a different flavor. First I had mastic (crystallized tree sap) cream, naturally a very intense woody flavor akin to what I would expect if the lamb were cooked over a wood fire. Next was pickled date puree, this was light and sweet. Lastly cabbage braised with red wine which imparted a sweet and salty flavor. The lamb was extremely tender maybe the most tender I have ever tasted, and there wasn't a hint of game. A word of caution, the plinth and the bit of lamb touching it are extremely hot. I burned my tongue when I tried my first bite, something which no doubt soured the experience for me.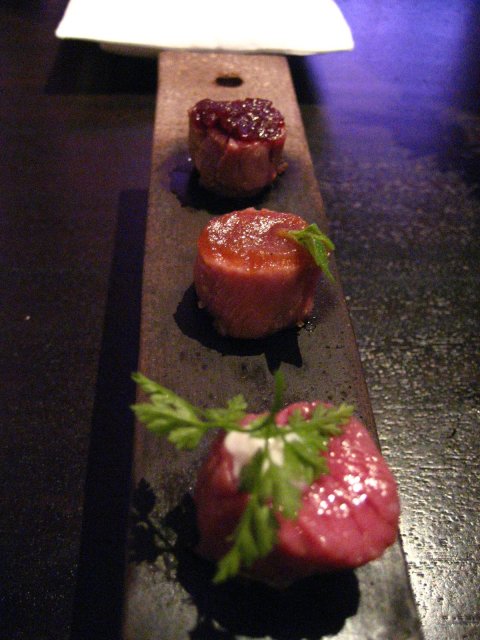 HOT POTATO - cold potato, black truffle, butter
Yet another signature course that Chef Achatz can't seem to do without. This course requires a step of preparation from the diners. Stuck on a pin are a hot potato, summer truffle, butter, chive, and cheese. When ready the diner pulls the pin and drops the ingredients into the cold soup. Shoot the resulting mix quickly and taste the contrast. Sounds cool and tastes good but definitely cold overpowers hot. The simple creamy potato soup is the most recognizable ingredient out of the bunch.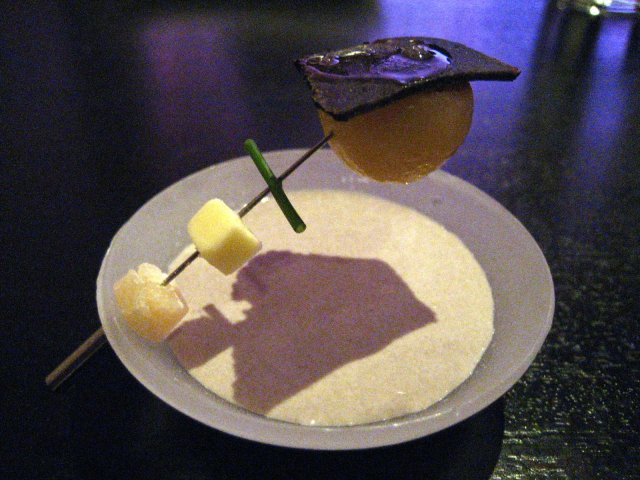 BISON - encased in savory granola
Schiavenza Barolo, Serralunga d'Alba 2001
Never a big fan of bison this was hands down the best bison I have ever eaten in my life. The bison came covered in granola, and accompanied by a cherry sauce lake and some unknown puree and unknown foam (bear with me I was really full at this point and kind of tipsy). The bison was tender and the majesty of the cherry plus granola flavor is beyond my memory's capacity to describe.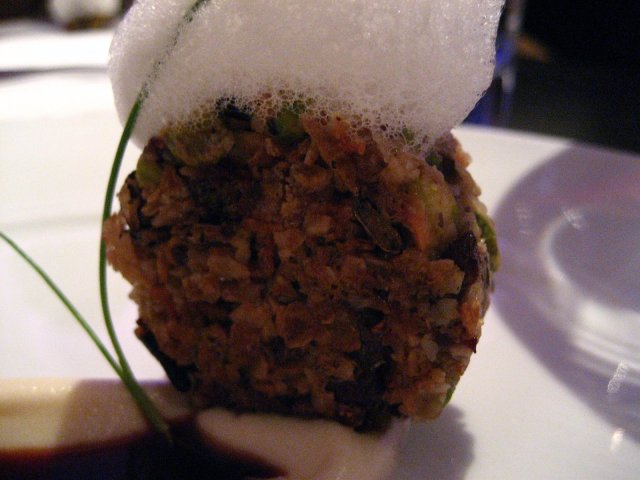 FOIE GRAS - spicy cinnamon, apple pate de fruit
Some of you might know it is illegal to serve foie gras in Chicago. I pointed this out with a smirk only to have the waitress respond "Its a gift" with an equally amused smirk. I have been developing a taste for foie gras and I really enjoyed this one. The rich fatty foie gras comes to the fore but the cinnamon puff provides excellent supporting accents of heat and a lovely initial crunch similar to a meringue.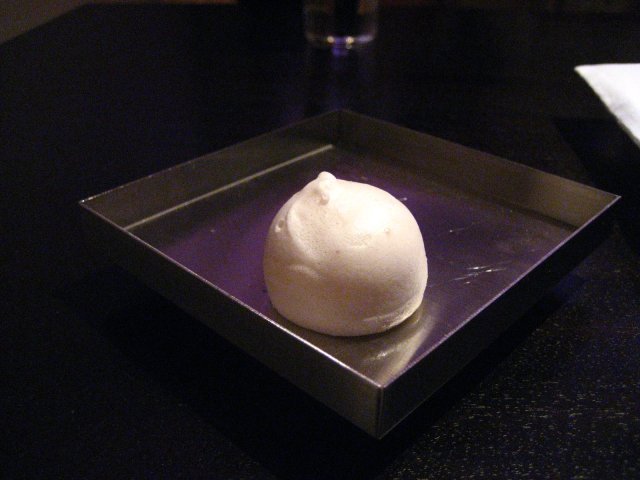 ORANGE - olive oil, green olive, almond
Kiralyudvar "Tokaji Cuvee Ilona", Hungary 2001
Described by people at another table as "raunchy" and "sex in my mouth" My girlfriend and I were looking forward to this dish. When it came it was very good, but I think over hyped. The orange sorbet and green olive ice cream tasted delicious alone, paired together, or with the base (streusel?). Of the accompanying flavors the basil and olive oil stood out the most. There was also orange served two other ways, the thin film draped over half the dessert, and cooked fruit with the olive oil powder. All in all a good dessert but certainly not raunchy.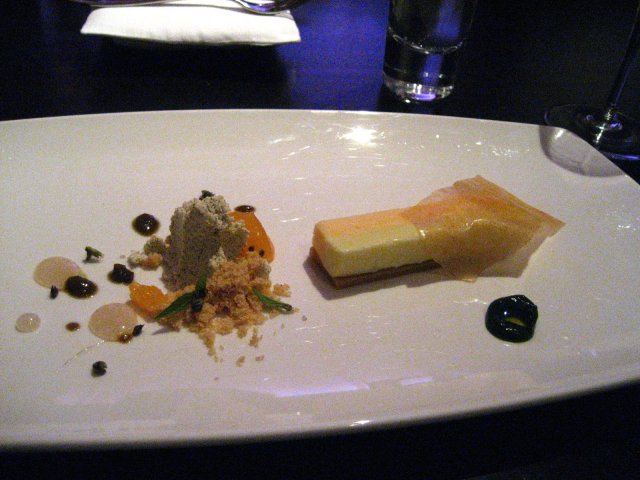 COCONUT - saffron, kiwi, cornmeal
Cantine del Notaio "L'Autentica", Basilicata, Italy 2004
The second dessert was a strip of coconut puree, with warm saffron mochee, roasted kiwi, and roasted corn husk gelee. The theme of this dessert was definitely creaminess. The coconut and corn were both sweet and creamy but not overly oppressive. The saffron mochee was gummy sweet and lingering.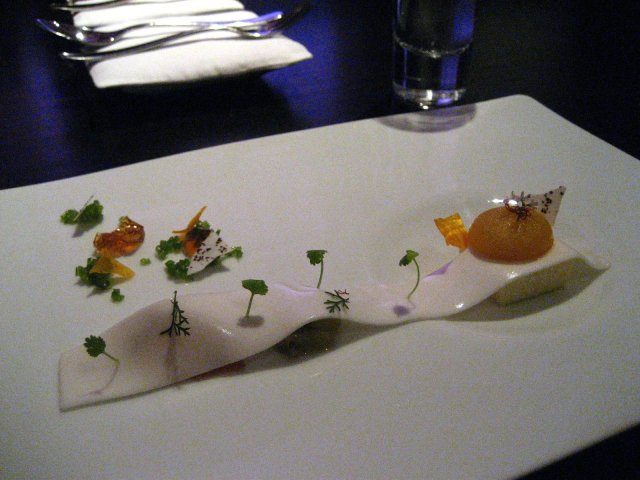 CHOCOLATE - passionfruit, lemongrass, soy
Abbazia di Novacella Moscato Rosa "Praepositus", Alto Adige 2004
When I first heard one of the ingredients was soy sauce, I must have developed a quizzical expression. Our server quickly smiled and amended it to sweetened soy sauce. The other ingredients included kumquat zest, lemon ice, and passionfruit pudding. I remember the chocolate overpowering everything, but honestly I was quite full by this point and couldn't really focus to pick out the nuanced flavors.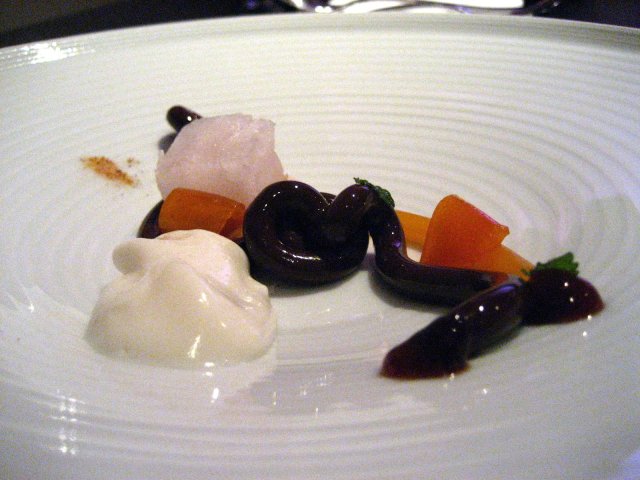 CARAMEL - meyer lemon, cinnamon perfume
A ball of fried caramel flavored with lemon served on a cinnamon stick. I remember this tasting initially like a churro probably due to the batter. That flavor eventually got replaced with sticky sweet and salty caramel with a hint of lemon. A nice small bite to end one of the most unique dining experiences of my life.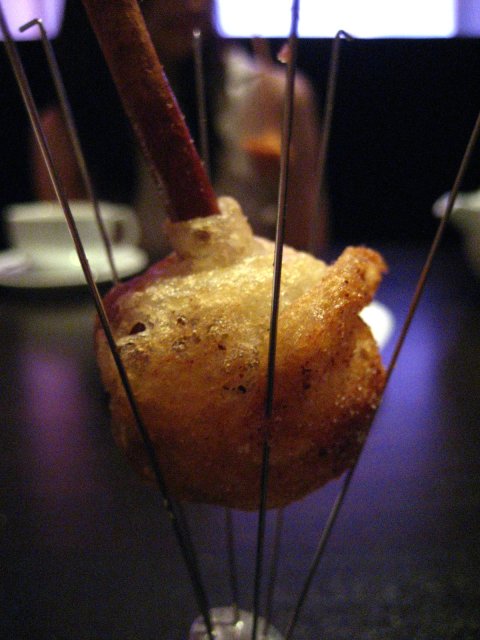 Afterwards we sat in our seats for 15 minutes just resting and basking in one of the longest meals of our lives. It took a little over 4 hours from start to finish. Although that is quite fast given that my friend took 6 hours for the same meal half a year earlier. Honestly after a 5 hour drive I was thankful our meal was ONLY a paltry 4 hours. Even so we didn't leave until 2:00 AM.

Of course before we left we were given a tour of the kitchen. Chef Achatz had retired to his office for the evening (to answer correspondence till the wee hours of the morning) but still came up to greet us. He spoke to us briefly, asking what we thought of the meal and posed for a picture with me. He also provided me and my girlfriend with signed menus customized to show our exact dining experience (mine had the wines added). My impression of the Chef was a man driven by his passion. Standing next to him and speaking with him he was courteous, but I could feel an intensity. My friend described him as reminiscent of a young Gordon Ramsey and I certainly could feel it. I suppose it takes that kind of drive and desire to open a restaurant at 31 and have it be rated among the best in the world within 2 years. It was rated #1 in the US by Gourmet Magazine in 2006 so before it had actually been open 2 full years. This year Restaurant Magazine made it the highest newcomer to its worldwide list at #36. I am sure when Michelin gets around to Chicago, Alinea will be boasting some stars as well.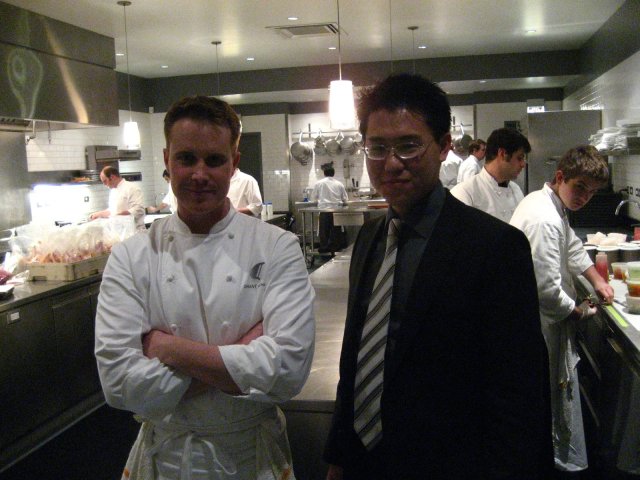 Early in the meal I came to the realization Alinea is best enjoyed as a sort of holistic experience. Rather than dissecting the ingredients, thinking about the preparation methods, and overanalyzing the minutia. Just eat! Put the food in your mouth and enjoy. Don't take pictures or write notes. I was tempted to do just that, but I enjoy the reviewing process way too much to discard it. For those foodies who aren't in love with hearing themselves talk, treasure the experience, especially the first time. Come again and apply cold relentless logic to make sense of the food, but you really do owe it to yourself to get the optimal experience at least once.

As I mentioned earlier, once a dish is removed from the menu it is never served again, however I did notice Chef Achatz applies similar techniques but changes the ingredients. Check out my friend's account of his meal and I think you can see some common themes. Kevin's Review

Alinea and the whole family of molecular gastronomy restaurants are not for everyone. I found some of the dishes beyond my ability to appreciate. For those looking for simply a good meal there are plenty of those to be found elsewhere. When you come to here you put yourself at the mercy of Chef Achatz's whimsy and if you aren't prepared to risk a few misses where your tastes diverge, you might want to reconsider Alinea.

Oh right what causes that noise? The noise is created by metal beads on long stems that vibrate periodically and bump each other creating the rattling noise. Sorry for the quality of the picture 11 glasses of wine later my stability isn't what it used to be. As I stood there looking at the wall throb I thought of a beating heart as if the restaurant was something alive beckoning you in, or maybe that was the wine talking.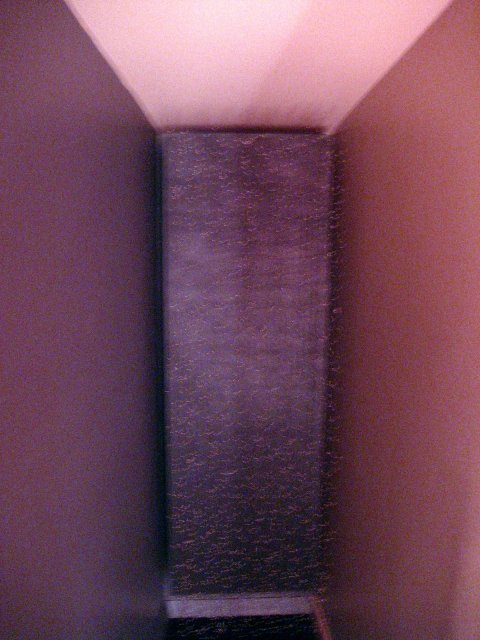 UPDATE:Chef Achatz is battling squamous cell carcinoma of the mouth. I wish him the best and sincerely admire his determination in this trying time. Be well Grant!

Home